About the Artist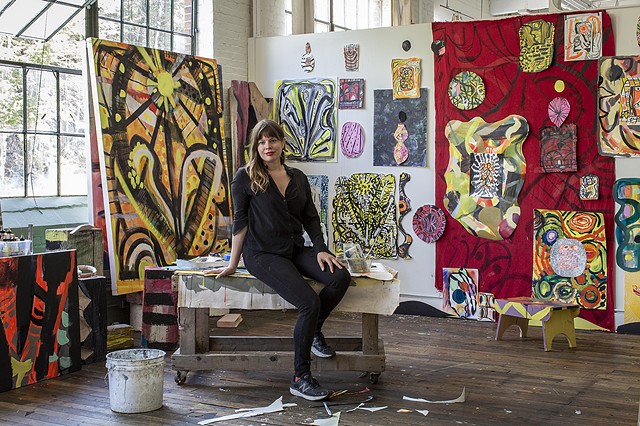 Inquiries please contact emilynoellelambert@gmail.com
American artist Emily Noelle Lambert creates abstract paintings, totemic sculptures and installations that echo an evocative interrelation between color and form. Inspired by automatic drawings and plein air painting, Lambert's gestural compositions reflect different aspects of her surroundings. Robust with geometric and biomorphic flat planes of color, each canvas expresses a unique portrayal of nature.
Tethered to her paintings are her sculptures that function as a metaphor for the environment. Utilizing found objects, and ceramic vessels Lambert's precariously stacked totems reveal a sense of temporality and impermanence.
Both celebratory and introspective, Lambert's work invites the viewer to look beyond the scope of their surroundings and into the realm of possibility.
Emily Noelle Lambert received her M.F.A. in Painting from Hunter College and her B.A. in Visual Art from Antioch College. Lambert has shown nationally and internationally including solo exhibitions Freight and Volume Gallery(NYC), Denny Dimin Gallery(NYC), Lu Magnus Gallery(NYC) and Priska Juschka Fine Art(NYC), Thomas Robertello Gallery(Chicago), and IMART in South Korea. Her work has been included in numerous group exhibitions including at Asya Geisburg Gallery(NYC), Bravin Lee Gallery(NYC), Transmitter Gallery(NYC), the Ringling Museum of Art in Sarasota Florida, The University of Michigan in Kalamazoo, The Torrance Art Museum in Torrance, CA, Weekend Space in LA, and RH+Gallery in Istanbul. She has been awarded fellowships from MacDowell, The Yaddo Foundation, Fountainhead Residency, Vermont Studio Center, Dieu Donne, The Alfred and Trafford Klots International Artist Residency, The Fountainhead Residency, and the Lower East Side Printshop. Lambert's work has been reviewed in The International New York Times, The Observer, The Brooklyn Rail, Modern Painters, The Washington Post, Art in America, and artforum.com. She lives and works between Peterborough, New Hampshire and New York City.


Instagram